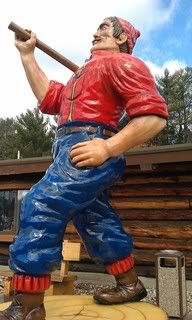 The gentlemen to the left there is the great American mythical figure Paul Bunyan. This gigantic likeness of the legendary logger appears outside his namesake restaurant, Paul Bunyan's Cook Shanty, in Wisconsin Dells, Wisc. I was in The Dells last weekend to witness the joyous nuptials of my nephew and his bride.
I should let you know at this point that I had never been to Wisconsin Dells before. I found myself simultaneously enthralled and horrified at the homespun, yet epic tackiness. I would have for all the world guessed that The Dells was a product of an all night bender at the end of which Branson, Mo., and Niagara Falls found themselves in bed together.
From the not-quite-canonical mythology on display at the Mt. Olympus Resort and Water Park to the Ho-Chunk family of casinos, Wisconsin Dells is a loud, splashy, explosion of kitsch for the whole family.
And at the center of it all is the aforementioned Paul Bunyan Cook Shanty, a restaurant cum gift shop with a lumberjack camp theme. And I do mean camp.
Upon pulling into Paul Bunyan's parking lot, visitors are greeted by the larger-tha
n-life logger. The awning leading up to the front door proclaims "Welcome to my cook shanty." But Paul himself remains silent. That's because he leaves the talking to his pal, Babe the blue ox.
For those of you not up on the fable, Paul's constant companion was an equally giant domesticated, blue ox. He resides in the foyer of the cook shanty, and for 25 cents, you can hear him talk and watch him move. This would be cool if Babe looked like you're picturing him, which is something like this:
Unfortunately, what greets visitors ready to plunk down their sawbuck for a hearty meal is this:
And yes, for a quarter, you hear a speaker within this ox head drone on about Paul and Babe's adventures, like when Babe blew an oppressive fog clean out of the valley, or Paul used a redwood as a toothpick, or that time Paul and Babe discovered forbidden love in the mountains of Calgary.
If you can get over this trauma, you will be treated to a true breakfast bacchanalia. I could describe it to you, but why don't I just show you the commercial.
As Mrs. Z. and I waddled away from our second Paul Bunyan breakfast in as many days, I remarked that it was a good thing a joint like just wouldn't play the same way in Springfield, Ill. I mean, the capital doesn't scream "lumberjack hangout," and there are no ... famous ... loggers ... in our ... history ...
"Wait a minute," I said. "Can't you just picture it? The Abraham Lincoln Presidential Cook Shanty."
Of course, to truly carry it off, you'd need the disembodied animatronic head of Mary Todd Lincoln chirping away at visitors in the gift shop:
"Hello, dears, and welcome to Abe Lincoln's Cook Shanty! I'm Mary Todd, and I'm batshit crazy! You know, my husband may have been known for his Emancipation Proclamation, but I proclaim my flapjacks to be the best in all the land!"
On second thought ... maybe not.