Gather 'round, children, and I will share with you a cautionary tale of the dangers of pride, unbounded optimism and an overdeveloped sense of ethics.
As those of you who have stuck with the blog from the beginning know, March is the traditional time I and other Springfield theater types typically engage in the ritual of The Muni Audition. Earlier this year, I had pretty much made up my mind to audition for a season of shows which included plenty of good, wheelchair-accessible roles.
As March approached, however, I felt an odd complacency creeping in. I couldn't get excited about a Muni audition; in fact, I couldn't get excited about auditioning at all. I mention this because the other audition opportunity that had appeared on the horizon was a cattle call in Chicago for "America's Got Talent."
Ever since this reality show debuted two summers ago, Mrs. Z has urged me to audition. And it did seem to offer a unique opportunity to someone like me who has a decent amount of singing talent but some marketability challenges (to wit, my age and my disability). But, as I have mentioned, I really wasn't feeling like auditioning at all when the calendar flipped. Nevertheless, I took the first step toward an "America's Got Talent" audition by filling out an online form.
Fast forward to two weekends ago, when I received an e-mail invitation to the 3-6 p.m. March 17 audition session. For some reason, getting this invite brought back a measure of audition excitement. But now, I had (I thought) a dilemma. In order to make the A.G.T. audition, I would have to leave Springfield for Chicago on March 16, thus missing Muni's callback day. Furthermore, there was the possibility that if I were cast in a Muni show and chosen for A.G.T., I might have to drop the Muni show – something I really didn't want to do, as I try to avoid dropping show at all costs.
For those of you slapping your heads and saying, "Man, did you outthink yourself," you are most definitely right. And for those saying, "My don't we have a high opinion of ourself," you are correct as well. For me to assume both the Muni and A.G.T. would be clamoring for my services was, at best, ridiculously optimistic and, at worst, laughably egotistical. Nevertheless, I had convinced myself I had to make a choice, and I did.
So it was with wide eyes and an eager heart I loaded into the car with Mrs. Z and Mama Z bound for the A.G.T. cattle call at Navy Pier in Chicago.
First, the cool stuff. We stayed at the fabulous Hard Rock Hotel Chicago. This is a shot of its lobby.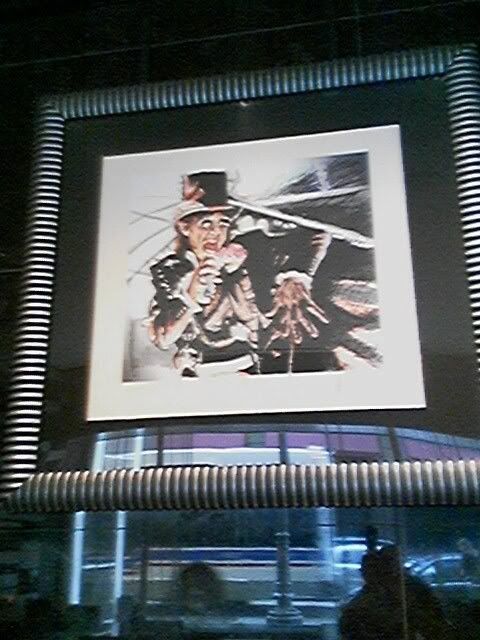 This is the view getting out of the elevator on our floor.
This is one side of a hallway in our room.
And this is the other.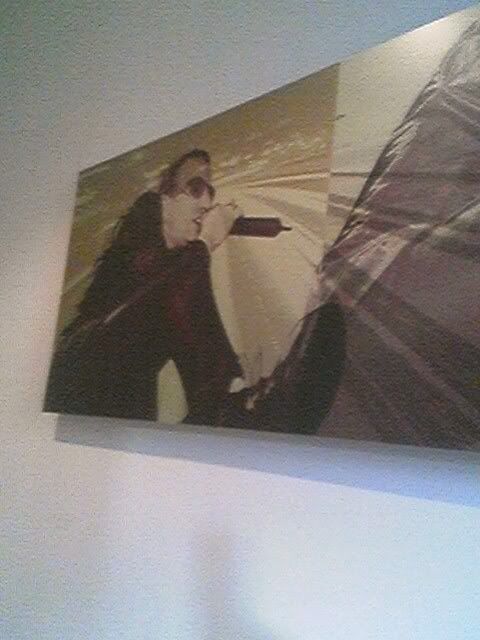 These cell phone pictures do it no justice, but it was the most spectacular hotel room in which I have ever stayed. And the bed … my, my, my … such luxurious comfort.
Between the hotel, a couple of wonderful meals and the enjoyable company (!) of my mother, the trip was already a success. And it's a good thing, because the audition was not to be.
We arrived at Navy Pier at approximately 1 p.m. After running all through the audition site and being redirected several times by some not-so-helpful audition staff, we finally found the initial registration line, in which we waited for about a half hour before I was photographed and processed. Then, it was into a giant holding area (the Lakeview Terrace, for anyone who's ever been to Navy Pier) with what I reckon were about 200 other auditioners. Keep in mind this was for one three-hour block, and the auditions ran from 7 a.m. to 9 p.m. for two days.
Audition numbers (I was #731999) were called in groups of 10 for an initial screening. Once my group was called, I were led into a hallway that housed about six audition rooms, which all had auditions running in concurrent 15-minute blocks. Once auditioners entered the room, they introduced themselves one at a time, sang 90 seconds of a song a capella and fell back into line.
Considering we were surrounded by noisy auditions on either side, grabbing a pitch was a challenge, but when my turn came, I belted out the highlights of "Bridge Over Troubled Water" in what I thought was a decent fashion. Once our group was finished, the two twentysomething staff members had us wait outside, where we would presently find out whether we had made it to the next step – an actual videotaped audition for the senior production staff. (Those who passed this step would advance to a recording of the actual first televised round of auditions.)
Within about 30 seconds, the audition herder came out and told the first auditioner (who had driven to Chicago from Arkansas to perform a serviceable rendition of Travis Tritt's "I Smell T-R-O-U-B-L-E" ) to go back inside. She informed the rest of us that the two twentysomethings were passing on the rest of us. We barely had time to absorb this news before the Travis Tritt wannabe emerged – also a reject.
We subsequently found out that the rate of people making it past this initial screening was roughly 12 in 800. Long odds, indeed.
Immediately, Mrs. And Mama Z went into damage control, but truthfully, I wasn't close to crushed. I had survived my first (and last?) true cattle call audition, and it had been a fascinating experience. If anything, I was ruing my folly at throwing all my proverbial eggs in one proverbial basket. There would have been absolutely nothing wrong with my auditioning for both the Muni and A.G.T., and who knows what the results may have been.
That said, it was a wonderful trip. I've found a new favorite hotel, and we enjoyed some fantastic food (including this charming little Midwestern chain we'd never been to before).
Perhaps nicest of all, I've ensured a spring and summer of free nights. And with Mrs. Z having been on the road so much this winter and with two more heavy months of toil on the road in store, that time together will be priceless.